Many years ago our church sponsored a monthly paint class where we painted flannel backgrounds for the Missionaries. Our teacher was my mother's neighbor and attended a rather large church. She invited ladies she knew to join with our class and we had fun meeting new Christian ladies as we all worked together for the Lord.
Most of the backgrounds we painted were out door scenes, but some were of the temple or inside a home. The missionary could use these backgrounds to tell Bible stories and place the figures that had a piece of flannel glued to the back. Flannel will stick to flannel, so the board was like magic as the children watched and listened to the Bible story.
These backgrounds are probably old fashioned now, because of Bible film strips, DVDs and flip charts with pictures that tell the story.
Anyway, we would always enjoy our day painting and then we benefited from a pot luck lunch.
I remember one day in particular when one of the ladies brought a tossed green salad and a French dressing on the side. That was the most incredible salad dressing I had ever had the pleasure of eating. We all exclaimed over her dressing and begged for the recipe.
She confided that this recipe came from a famous restaurant in Florida that they visited when her family was on vacation. The owner was king enough to share the recipe with her and now I gladly share it with you.
Warning - - Do not leave anything out of the recipe, or it will be ruined.
FRENCH DRESSING
2 cups vegetable oil (I use Canola)
1 cup Heinz apple cider vinegar
5 Tablespoons ketchup
1 tsp dry mustard
1 Tablespoon white sugar
1 tsp salt
1 tsp Worchestershire sauce
1 clove garlic pressed in a garlic press (or chopped very fine)
1 tsp paprika
Whip ingredients and place into a quart jar. Chill in refrigerator.
Shake well before each using. Keep refrigerated when not in use.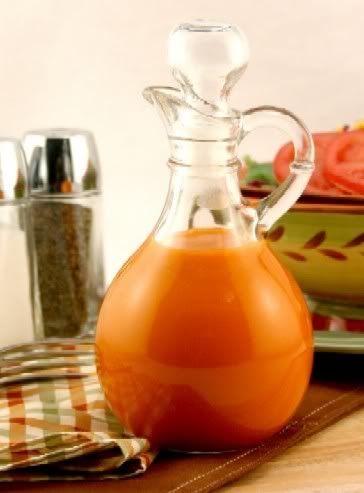 Photo courtesy of Photo Bucket
This post has been entered in Ann Kroeker's, Food on Fridays at
http://annkroeker.com/
Do visit her site and gather up some delicious and nutritious recipes.